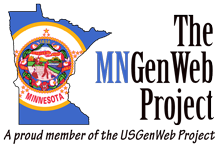 Emigrants from Nesodden Norway
Harald Lorentzen - Invalid email address 31 May 2019 - <harald.lorentzen@login.eunet.no> from Nesodden just outside Oslo has sent the following:
Hello friends in Minnesota.
I am living just outside Oslo in Norway. I try to write the story about the emigrants from my community Nesodden just outside Oslo in Norway. I have found these people emigrate from the community Nesodden to Minnesota.
I have concentrate me to tell the story about people traveling among 1850 and 1915. I have get in contact with some living descendants after these people, but should like to know more about what happen to the families that immigrate.
My book will be written in Norwegian, but next year I would let some translate it to English so also people in your country could read the book.
with best regards
Harald Lorentzen
Adress:
Harald Lorentzen
Solnedgangen 4.b
1450 Nesoddtangen
Norway
E-Mail: harald.lorentzen@login.eunet.no
Phone: 47 66 91 21 35
---
Immigrants from Nesodden county outside Oslo in Norway.
Immigration date is the date the ship left Olso.

Immigration First name        Surname        Born  Farm name       Destination
Date
1875 30.5   MAREN HELENE      ANTONSEN       1855  HASLE EIDE      MINNEAPOLIS
1875 30.5   MIKAEL            ANTONSEN       1857  HASLE EIDE      MINNEAPOLIS
1882 24.4   ANTON             HANSEN         1833  HAUKEMYR        ALEKSANDRIA
1882 24.4   KAREN HELENE      HANSDATTER     1861  HAUKEMYR        ALEKSANDRIA
1882 24.4   HANS ADOLF        ANTONSEN       1861  HAUKEMYR        ALEKSANDRIA
1882 24.4   KARL JOHAN        ANTONSEN       1864  HAUKEMYR        ALEKSANDRIA
1884 25.4   MARIE             ANDERSEN       1858                  MINNEAPOLIS
1885 30.7   ANNE E            PEDERSEN       1866                  FERGUS FALLS
1885 5.8    MAREN H           KAY            1867  KAY             CROOKSTONE
1886 31.3   KARL A            HALVORSEN      1868  LANGFJELD       MINNEAPOLIS
1887 22.4   HANS              JOHANNESEN     1852  LØSHAGAEN       BRAINERD
1887 22.4   DORTHEA           JOHANNESEN     1856  LØSHAGAEN       BRAINERD
1887 22.4   EINAR             JOHANNESEN     1882  LØSHAGAEN       BRAINERD
1887 22.4   JOHANNES          JOHANNESEN     1884  LØSHAGAEN       BRAINERD
1887 22.4   ELISE             JOHANNESEN     1885  LØSHAGAEN       BRAINERD
1887 22.4   IVAR              JOHANNESEN     1886  LØSHAGAEN       BRAINERD
1887 7.10   HAGBART           HANSEN         1855  STOKHOLM        MINNEAPOLIS
1892 22.4   GUNERIUS          HANSEN         1869  GJØFJELLBRÅTE   BLOOMING PRAIRE
1904 1.8    JOHAN KONRAD      ANDERSEN       1886                  MINNESOTA
1904 3.8    HANNA OLINE       VANG           1885                  MINNESOTA
1905 8.3    RAGNHILD          KARLSEN        1888  HASLE HAGEN     MINNESOTA
1905 23.5   MARTIN            PEDERSEN       1889  STEILENE        MINNESOTA
1906 1.3    KONRAD HENRY      PAULSEN        1885  MYKLERUD        MINNESOTA
1906 18.4   ADOLF HENRIK      JOHANSEN       1887  LANGFJELL S.    MINNESOTA to a farm
1906 18.4   PETER KOLBJ.      KARLSEN        1889  LANGFJELL S.    MINNESOTA to a farm
1906 18.4   OTTO              HALVORSEN      1888  LANGFJEL        MINNESOTA to a farm
1906 15.5   AGNES LORENTSE    HANSEN         1884                  MINNESOTA
1907 16.9   AGNES KONSTA.     NILSEN         1886  ÅSLUND          MINNESOTA to get marreid
1908 19.8   SEVERIN           ANDERSEN       1891  TEIGEN          MINNESOTA
1909 22.9   ANTON MAGNUS      ANDERSEN       1884  TEIGEN          MINNESOTA
1910 30.5   ANDREAS           PAULSEN        1888  STEILENE        MINNESOTA visit
1911 18.4   BJØRN AKSEL       OLOFSEN        1894  SOLBERG         MINNESOTA
1912        ARTHUR            BJØRLIEN       1897  VESTBY SPRO     MINNEAPOLIS to his family
1914 15.4   TRYGVE OLAF       OLSEN          1888                  MINNESOTA