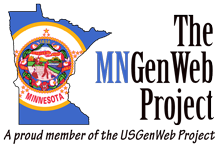 Minnesota Family Genealogies Online

This page is ONLY for MN Family Genealogy Web Sites already online.
Click here to submit Family Trees
Click here to submit Queries/Surnames
Click here to Add your family genealogy "web site" to this page
Use you browser's "Find" utility for this page.
There is no easy way to break down this page so the newest entries are listed last.
Please let me know (Tim) if you find a broken link. Please put the number and family name in the message.
Note: Submitters, please let me know (Tim) if your site moves or is no longer available.
Submissions will be deleted after several unsuccessful tries.
---
Lawler/McGovern/ McElligott Families in Olmsted County - also English, Barrett, Brennan, Mulvihill, Campion, Twohey, Daly, Cronin, and more.
David Eugene Cross - Invalid URL 29 May 2019 - My main family lines are Bjelland, Bonham, Cross, Ekbom, Elofson, Evans, Huntington, Jacoby, Levy, Marvick, Naadland, Petersson, Rasmussen, Smith, Stanley, Swanberg.
Paula M. Goblirsch Invalid URL 29 May 2019 - Nicollet/Brown Counties: Goblirsch, Buchl, Warta, Sakl - Redwood County: Goblirsch - Morrison County: Bares, Stumpf - Hennepin County: Schiefelbein, Knoblauch.
A Pettit/Tuey Reference Library Surnames stemming from Minnesota, Illinois, Kentucky, Ohio, and Virginia from 1750 to the present.
Gary Jacobson's Annentafel - 1st 32 generations (of 40!) contain Minnesotans - surnames Jacobson, Johnson, Nelson, Jensdatter, Nielson, Svensson, Magnuson, Hansen, Thomsdatter - mostly in Steele County, some Dodge Co.
Eastman Web Site - Invalid URL 29 May 2019 - home of some early Eastman's of Minneapolis/St. Anthony area including #53, John Whittemore Eastman, #54, William Wallace Eastman, #55, David Adams Secombe, #56, John DeLaittre, #59, Ami Cutler.
Gen. Seth Eastman site - famous artist of Indian life in the Mpls area.
Family History of John Carl Nelson and Wang Sue - includes Hopfner, Rothstein, Wilken, Hockert, Nelson, Sigfrid - in Ottertail & Douglas Counties.
The Swiss Family Ebersold Invalid URL 29 May 2019 -Ebersold name in Wabasha County - more coming.
Chad Flentje's Genealogy - Faribault Co - Flentje, Gullikson, Kienitz, Krinke, Kutz, Laabs, Lester, Nohrenberg, Paschke, Potter, Schaper, Stime - Martin County - Flentje, Jaskulke, Laabs, Lenz, Potter, Weiske.
Mike Borchardt's Genealogy - Fairmont area, Martin County - Borchardt, Kuenle, Rowley, Steffen, Frane, McQueen.
Marilyn & Cliff Moen's Home Page MOEN, SIGMUNDSTAD, NYSETH, HOVLAND, FLATEN, HAUGSE, SYVERSON, GRONSETH, HASLERUD, CARLSRUD, RASMUSSEN, AMUNDSON, DAHLE, RONNINGEN, GRONLUND These families all have Norway connections and relatives eventually settled near Rothsay, MN living in Wilkin and Otter Tail Counties.
Heine-Barnett Family Tree - Invalid URL 29 May 2019 - has families in Fillmore County (Blackstad; Cadwalder; Cozad; Finley; Gammel; Hagen; Harwood; Hazelton; Heine; Jacobsen ; Larson; Liverance; Mawer; Mills; Reynolds; Richey; Rudlong; Smith; Tabor) and also Hennepin, Nicollet, St. Louis, Steele, Waseca and Wright.
Steve Hall Family Home Page - Invalid URL 3 Jun 2019 - WOODMAN NY>MN 1800's, HALL NY>WI>MN 1800's, CAPSER GER>WI>MN 1800'S, SMART WI 1800's, CALLAHAN MN 1800's, DAVIS, SANDUM, PATTON/PATTEN, ANDERSON, HARRIS, MATTISON, DILLIN, HAWKINS and others.
Clark/Stoecker Family Site in the Duluth area and Fergus Falls.
Bob Heck's Home Page For Genealogy - Invalid URL 29 May 2019 - contains many HECK, SCHAEFER and BRUNNER family members from Swan Lake, MN. The HECK and SCHAEFER families came from Brighton, Kenosha County, Wisconsin in 1857. Prior to that they came from the Village of Alendorf, Germany in 1852.
Volkman/Lien Family Tree I have been researching the following family surnames: Davis, Fisher, Lien, Volkman, Volkmann, Quaintance, Hill, Reeverts, Peck, Halverson, Peterson, Bauer, Kohlrusch, Ruehl, Swayne & Lamborn. Some of the family trees date back to the early 1600's. I would be interested in hearing from anyone belonging to the surnames above. Most of the surnames originate from Germany except Lien, Halverson and Peterson which come from Norway and Sweden. Carla Lien - invalid email address 22 May 2019
Midtlyng-Mitlyng Genealogy - Invalid URL 29 May 2019 - featuring Midtlyng and Mitlyng in Montevideo.
DECOURSEY - BIRD - MEARS families.
Family page of the Kraus / Krauss / Krause name - Invalid URL 3 Jun 2019 - covering thirteen different branches of the name, some in Watonwan Co. names.
Family of Teri and Terry Cleaveland - Invalid URL 29 May 2019
Hopperstad, Rodberg, Kinden Bursley/Borsli/Burslien, Honkanen, Quaal, Kirsch, Rooning, Koistinen, Moen - Invalid URL 29 May 2019 - families from the Emmons and Albert Lea areas of Minnesota and Lake Mills and Decorah regions of Iowa.
Carney, Conway, Costello, Donovan, McCabe, McGonagle - Invalid URL 29 May 2019 - families from Waseca County, MN.
Larsen, Loomis/Lomis, Tracy, and Murphy families in Minnesota by Sue Baker.
Will and Dena's Family Tree - Invalid URL 29 May 2019 - Wright County- CARDINAL, CARRIER, PERRA/s and Hennepin County- BOESER, CLAESSEN/CLASSEN/GLASSEN, CAMENT.
The Andrist Home Page shows family trees with more than a thousand records. In addition, it contains information on heraldry (a real Andrist family crest!), Andrist legends and the Andrist mountains etc. Many Andrists live in Minnesota, primarily in the south-eastern part. Contributions and corrections are encouraged. Thank you, Willi Andrist, Trimbach, Switzerland.
DORGAN/HEITMAR/BJORE/LARSON/SKOIEN homepage with Minnesota ancestors. Fosston, Sibley Co, Henderson, Saskatchewan Canada.
My Minnesota Ancestors - Families include: Thilgen and Steidl of Blue Earth County, Palmer of Morrison County, Richter and Lehman/Lehmann of Le Sueur County. DeanRT@aol.com
Swan Family Home Page has many names from many places. Included from southwest MN area of Murray and Pipestone counties are Swan, Lovell, Ditmeyer, Butman, Frybarger. Contact Leon Swan, Omaha, NE at swanl@geocities.com.
BARNES--PARISH--ERICKSON - families of Redwood and Carlton Counties. - Invalid URL 4 Jun 2019
Some of the Lieb family - Invalid URL 29 May 2019 - in Minnesota.
Stig J. Lindstad - Invalid URL 29 May 2019
My Ancestors by Terry Meinke. - Invalid URL 29 May 2019 - The Minnesota family lines that I have researched are: Coulthart, Freiborg, Huizinga, Meinke, Modderman, Negen, Niggendijker, Ruge, Schipper, Wolf, Woltjer.
McKenzie/Mueller Home Page in Frankenhausen, Germany Minnesota Roots include: Galle and Reemer from Madison, Lac Qui Parle Co. with German origins. Mueller and Dageförde from Lester Prarie, McLeod Co. with German origins. All four of these families have been traced back to at least the place of origin in Germany. The Dageförde line is traced back to 1350!
Robert H. Wennerstrand Wennerstrands originated in Varmland, Sweden. Imigrants to the USA settled in Minnesota, Wisconsin, Illinois and the New England. Data begins with Anders Wennerstrand, b. 1796 in Arvika. Data is also available for several clans of Wennerstrands that we have not been able to link together.
Kristine Romain's Ancestry - Invalid URL 4 Jun 2019 - Hammers/Hamers from Chaska, MN. Originally from Netherlands. Also Goulet from the Minnesota Iron Range (Buhl, Virginia, Hibbing, MN). Also Romain from Pennsylvania. GEDCOM file and narrative reports from FTW.
Palmer/Tucker/Pries/Utke/Struck families from New York in 1800 - to Reedsburg, Wisc. later to Filmore and Olmsted Counties Doug. Hubman
Pederson and Halvorson Families from Hurdal and Nannestad, Norway: Are you looking for information about the Pederson and Halvorson from Hurdal or Nannestad, Norway? I have much information and will share with others. These families immigrated between 1857 to 1885. Many settled in SE MN and SW MN before scattering. I would like to learn more and willing to share information I now have.
Mike & Erica's Genealogy Page - Main Family lines are Andersen, Bengtson, Bredeck, Lindquist, Paulson, Stern. BUT there are many more! A lot of scandanavian to mostly Sibley, Yellow Medicine, Meeker, Wright, and Hennepin Counties in MN. Some other counties and states as well.
Erdahl And Hammer Genealogy. Contains surnames: Erdal/Erdahl, Hjelle, Nesje, Grov, Bolstad, Iverson, Meyer, Kistler, Nelson, Gulsvig, Hammer, Larson, Eidahl, Lotsberg. Most came from Opstryen in Norway. Minn. locations include (but not only) Benson, Pope County, Blue Earth, and Lac Qui Parle County. Also contains some database index's. Monica Erdahl Drake
Appeldorn and Burkhead Database - Invalid URL 29 May 2019 - The Minnesota surnames include Syreen Dandanell Appledorn. These families were located in Crow Wing, Aitkin and Cass Counties.
My Ancestors by Marianne Henriksson Giusti, invalid email address 22 May 2019, a book about Henriksson family Sweden also Andersson, Larsson, Almqvist, Samzelius, Hjelm and Fröman.
Ray's Home Page: Chastain(een), Maschke, Marshall, Howerton, etc. - Invalid URL 4 Jun 2019
I have a number of MN families in my database, some of which are extensive, at Wheeler family. - Invalid URL 29 May 2019 - It is complete with sources and notes, some of which are very detailed. The principal families are of the St. Cloud, MN, Stearns area and include McClure, Hayward, Coates, Gray, Freeman, Patock, Locke, Snow and Getchell. Mary Beth Wheeler
Red River Valley website - Many of the families in this site originated in England, Scotland, and Ireland and came to the northwest corner of Minnesota by way of Prince Edward Island, Canada. Others came directly from those origins, as well as, Scandinavian and European countries. This site contains information on those families and other related families. The families settled in or around the rural villages of Humboldt, St. Vincent, Noyes, Orleans, Northcote, Hallock, Karlstad, Lake Bronson, Lancaster, Kennedy, and Donaldson in Kittson County, Minnesota; Pembina, North Dakota; and Emerson, Manitoba, Canada. The area is sometimes referred to as the - Upper Red River Valley of the North
Minnesota Kin Home Page: HANSEN, KRUG, SILLMAN and other's living in Canby and Minneota and the surrounding area's.
GOPLEN Family Home Page - Arne Henriksen Goplen settled in Goodhue Co. in 1869, interactive genealogy site. - Invalid URL 4 Jun 2019
Bonnie (Gallagher) Gilson Home Page - Invalid URL 29 May 2019 - DUNN, GALLAGHER, IZATT, JOHNSTON, LINCOLN, NAGLE, SIMONSON families and many others. Primarily in the St. Paul, Ramsey County area. Would love to hear from descendants!
I have a home page - Invalid URL 4 Jun 2019 - on my genealogy listing my MN family. Thank you. Sharon Busselle Schuyler
Ann McRoden Mensch - Invalid URL 29 May 2019 - My Chippewa County, MN ancestors include surnames: MCRODEN, NORMAN, KLING, & DENSMORE. My family ancestory home page may be accessed with the following link: http://home.att.net/~mensch-family/ I also have a site for Montevideo, CHIPPEWA, MN genealogy & history - Invalid URL 29 May 2019 - which contains additional information about my ancestors, but is primarily to help others researching ancestors in Chippewa County, MN.
Genealogy Web Page covering the families of SOGGE - DANIELSON - ERICKSON - KLUNGTVEIT(TWAIT) - EIDE - KOLVE
Cartier's in MN and Quebec - Invalid URL 4 Jun 2019
Genealogy and Family History from Steven Donald Ellersick - Invalid URL 29 May 2019
White Pine Savages: Ellersicks in the Lumber Industry - Invalid URL 29 May 2019
Anderson and Nelson families settled in Lac Qui Parle Co.- submitted by Dianne Rabchak - Invalid URL 4 Jun 2019
Vermeersch Family homepage - Invalid URL 4 Jun 2019
A family history of the Harder, Sawatzky, Quiring, Rempel surnames going back to the 1700's via the Ukraine and Prussia. - Invalid URL 29 May 2019
Johnson, Larsen, Zender & O'Brien Family Home Page. - Invalid URL 4 Jun 2019 - Primary Minnesota counties are Watonwan, Chisago, Sibley. Primary countries of origin are Norway, Sweden, Ireland, Germany. Some surnames are LARSEN, ANDERSON, EKRE, GALL, ZENDER, BRONSTAD, O'BRIEN, SIPE, JOHANSDOTTER, JOHNSON, LILJEQUIST, LOMELL, WELLS, and many more.
Weier, Gass, Unger, Mehr, Mugg in Stearns County. - Invalid URL 29 May 2019
John Enious CLARK/Carrie Janette WARD Family (Invalid URL 29 May 2019) with sons-in-law ROBERTS, HENRY, JOHNSON and ANDERSON. My great grandparents John and Carrie moved from Wisconsin to a farm near Chokio, Stevens, MN in 1896. John died there in Aug, 1926, Carrie 31 Jul 1905. Several of their children were married in Morris. My web site has a few generations of descendants and some of their immigrant ancestors who were in New England in the 1600's. John's notes contain his obituary in which there are the names of several people from the area.
Maeland-Brekke-Midthun Family Home Page - Invalid URL 4 Jun 2019 - Knute Anderson Brekke initially located to Emerald township, Faribault County, MN from Opstyrn, Nordfjord, Norway in 1860. Was one of the first immigrants from Nordfjord, Norway to Minnesota. * Other surnames related to this ancestry are: Midthun, Tunold, Amundson, Anderson, Erickson, Leiferman, Thompson, Tollefsrud, and Wrase. *Rev R.J. Meland, The John J. Maland and Mari nee Brekke Genealogy, (Ugeblad Publishing Company - Fergus Falls, MN- 1959)
My web page, the families included on it which hail from Minnesota are Britton, Wedeman, and perhaps Lundgren.
The Bowman Family Home Page Family Tree Maker's Genealogy Site - Invalid URL 4 Jun 2019
Vast amounts of information on the Baber Family dating back to the 1500's in England.
Surnames Proskow, Forcier, Lewis, Ausland, Walsh, Hitchcock, and Mandeville all from MN counties of Ramsey, Dakota, Washington and Grant. - Invalid URL 4 Jun 2019
My grandmother was born in Minnesota and I am tracing the descendants of her father, Emil BOSTROM. My research to date is on my web site.
A new web page I am designing for the town of Lake Lillian, MN in Kandiyohi County, which my 3x great grandfather founded in 1864. - Invalid URL address 31 May 2019

My personal family genealogy web page - Invalid URL 4 Jun 2019 - Primary: Kandiyohi Co. Secondaries: Nicollet Co., Meeker, Renville, Hennepin, Ramsey, Anoka, McLeod. Other states: English lines: Arkansas, Virginia, West Virginia, Mississippi. Swedish lines: Illinois and Minnesota. Norwegian lines: Minnesota and Iowa

Surnames: BUCKLEY CONKLIN O'REILLEY SCHULTE SOLGAT FOUQUETTE HENRI PARENT - Locations: Foley, Duluth, White Bear, St. Cloud - Invalid URL 4 Jun 2019
Bob and Darcy Edwards Home Page researching - Edwards, Glockner, Bick, Roberts, Fisher, Lemke, Schneider, Apmann and associated familys. - Invalid URL 4 Jun 2019
Ohio River Valley Families is a non-commercial website with a searchable database of over 54,000 individuals related by bloodlines or marriage. Significant Surnames (more than 100 individuals): ADDY, ADAMS, ALLEN, ALLISON, ANDERSON, BANTA, BASSETT, BROWN, CAMPBELL, CARTER, CLARK, COLE, COOK, COPELAND, CRANDALL, DAVIS, DORRELL, EMMONS, EMPSON, FEIOCK, GARDNER, GOSHORN, GRIFFITH, HADLEY, HALL, HARVEY, HITT, HOBBS, HOLLINGSWORTH, HOWERTON, JOHNSON, JONES, KING, KINSER, LACOCK, MANN, MARTIN, McCLAIN, McMATH, McMULLEN, MENDENHALL, MERRIFIELD, MILLER, MILLS, MOORE, MORRIS, NEILL, NIGHBERT, PATE, PAXSON, RAND, RIBBLE, SHAFT, SIMS, SMITH, SPRAY, STANFIELD, STARR, SWALLOW, VANDOLAH, VAUGHT, VEIOCK, WELLES, WETHERBEE, WHITE, WHITHAM, WILLIAMS, WILSON and WRIGHT.
The entire REA genealogy (so far) web page and, for a detailed biography of my great-grandfather, Orvin James Rea. The REA lineage and all its allied Minnesota surnames centers in Lyon County, in Southwestern Minnesota.
LaValle Avery Family. - Invalid URL 29 May 2019 - Names Include Avery, Keith, Weaver, Longtin, Hiatt, Tougas, Thompson, Courville, Normandin, Christie, Kooken, LaValle, and many more.
Popp Page is from Morrison, Hennepin and Benton counties.
SIMON FAMILY TREE - We currently have SIMON, WHEELER,FITZGERALD, WELSH, PASSE, MALOY, O'CONNOR, McLAUGHIN, DOBUI, HEALY, STENHAMMER/STINEHAMMER, LILJENBERG, MAGNUSON in our tree. Many settled in the Wabasha area.
Relatives from Ramsey and Stearns County back to the mid 1800s. Surnames: Kennedy, Colbert, Thelen, Klapperich, etc. - Invalid URL 4 Jun 2019
This represents a very brief outline of part of my family tree consisting mainly of EBERT, GIESE, NEUMAN surnames. The detailed extended family trees may be viewed on the World Ancestry Tree website by doing a search on any of the listed names.
GUILE - GILE - GUILES Families throughout Minnesota, starting in Winona Co.
WEIDNER FAMILY - My great-great grandfather settled in Kandiyohi county in the late 1870s or 1880s. My grandfather and father were born in Minnesota. I still have a number of relatives in and near Paynesville, Regal, St. Cloud and the Minneapolis Metro area.
My great grandparents, Knut Fritiof Sandberg and Anna Margarite (nee Sjogren) emigrated from Sweden in 1880 and settled in Black River, which at the time was in Red Lake County, but is now in Pennington County. Knut was a founding member of the Black River Swedish Lutheran Congregation. Per Alfred Hallstrom and his wife, Mathilda (nee Selberg) settled in the same area in 1885. Other names associated with the family are Naplin, Mosbeck and Sorvig. For more information please see http://worldconnect.genealogy.rootsweb.com/cgi-bin/igm.cgi?db=sandberg&submit=Go
My Hitchcock Heritage - Hitchcock, Ness, Hendricks from Itasca County
SWIFT's & TAUBE's - Minneapolis & St. Paul area.
I am researching (paternal) La Mere, Le Mere, Lemire, (Invalid URL 29 May 2019) and several other variants. They were from Normandy, France to Quebec, Canada, 1600's. Moved to Minneapolis/Saint Paul in 1853. I am also researching (maternal) Armstrong, Martell, Faust, Stone. They were from Scotland (Stone), France and Germany, then fromn the east coast and Missouri, moved to North Dakota in the late 1800's, and then on to Wisconsin. They eventually ended up in Minnesota.
The Shellum, Nelson, Lee and Brudelie families of southern Minnesota. This site explores the emigration of four Norwegian families, the Shellums, Nelsons, Lees and Brudelies, to Brown and Watonwan counties in the 1860s and 1870s.
FAMILY TREE RESEARCH IN MINNESOTA AND ELSEWHERE ANDERSON, BUCKMAN, CLAESSENS, DECKERS, HANSON, HARRIS, HALSTED, HESS, JACOBSON, KNUTSON, LUNSFORD, MAUS, MCDERMOTT, MILLER, MONZEL, NELSON, OP DE LACHT,ONSTAD REDMON, WINDISCH
My Heer family lives in several counties. Robert Renwick Heer and Mary Jane Heer, they lived in Excelsior, MN.
Pavitt - Anderson's are from Hennepin County and ended up in Faribault City, Rice County.
Robinson - Witherspoon Invalid URL address 30 May 2019 - Myron Robinson & Margaret Witherspoon m: Dec 25, 1869, Pleasant Mound, Blue Earth, MN. One child born there, possibly more before they move on to the Dakota's. Still researching. Roberta Invalid URL address 30 May 2019
The Rubey Family Tree in Minnesota - Invalid URL address 30 May 2019 - Home to obituaries, surname list, old photographs, and historical articles of the Sleepy Eye area. Some surnames are: RUBEY, SELLNER, TAUER, HILLESHEIM, ACKERSON, BARRON, SCHUNK, ROTHMEIER, MATHIOWETZ, HELGET, SCHROEPFER, and many more.
Surnames: Franklin, Hacklander, Courrier, Sydow, Schmidt, Goettel, Bunse, Sahr, and many more including counties of Faribault, Winona, Dakota, Freeborn and Olmsted. - Invalid URL 4 Jun 2019
The Bill and Anne page - We are currently researching family surnames in Minnesota (Arnold, Butler, and others who live in or immigrated to the state of Minnesota.
Amundson Family History Site - Pictorial history of the 8 northern European families that eventually produced our immediate family: Amundson, Olson, Reno, Nervig, Tamminen, Haapala, Wilminko, Raiha.
1800=Present. This is the Family tree Site of Mn Buckman/Knutson. - Invalid URL 4 Jun 2019 - Members from Renville, Wright, Carver, Hennipen, Ramsey, Meeker Counites and more. Surnames: Buckman, Knutson, Miller, Hanson, Hess, Windisch, Schulte, Nelson, Claessen, Harris, Deckers, McDermott. Please contact me if you find any possible matches, I am willing to share information.
John Van Essen's Genealogy Pages - Invalid URL address 30 May 2019 - Resources for researching VAN ESSEN families in the U.S. I'm also researching the immigrant families of my WEISHALLA and LAMUSGA ancestors (Todd County) and BELLMUTH, MAGHAN, and RYDEN ancestors (Crow Wing and St. Louis Counties). I'm a native of Brainerd - check out my Crow Wing County Research Tips page.
Anderson Miller Brecke and Petersen. The Anderson lineage from Arthur Ingvald Anderson from Audubon, Minnesota. - Invalid URL 3 Jun 2019
Our Growing Branches- Invalid URL 3 Jun 2019 - My NY/MN/MI/IL/WI/IA/ Families. Main Surnames are: Goetsch/Hoffman/ Nelson/ Brown/Seymour/Gilbert/ and many, many more. Also included on our site is lots of family photographs, Orbits, Links to some other great Pages and research sites, and much more. Come take a look and who knows you might find someone who you are looking for also.
Minnesota families: GLASS, KOLESAR, FORSELL, & more.
The Sandquist Family - Hemness(Anderson), Gardner, Beldo, Faaborg, Johnson, and Gilderhaus surnames. Counties where my relatives came from or went to are Chippewa, Lincoln, Kandiyohi, Wadena, Beltrami and St Louis.
This has the Reynolds, Hemingways, Reec(s)e from Berlin Township, Steele County, MN. - Invalid URL address 30 May 2019
Whose Family is it Anyway? family lines for Ames, Bea, Churchill plus others in Dodge and Goodhue counties of Minnesota. This is a new web page. Information being added often. - Invalid URL address 30 May 2019
The Vakoc family from Czechoslovakia first settled in New Prague, Minnesota - Invalid URL 3 Jun 2019 - and later Tabor and East Grand Forks, MN. Some of the surnames are Vakoc, Vakoch, Kratochvil, Sirek, Cernousek, Votava, Matcha, Sedivy. Have done exstensive work bringing these families together again and am always looking for loose ends. Peggy Nielsen
Surnames include CANFIELD, FRUECHTE, WIEGREFE and CORDES in Houston and Wabasha Counties. Marge Galus Sandlier Forget Me Not Invalid URL address 30 May 2019 - or Forget Me Not II
Our family website includes information on Triggs, Turner, Mahurin, Curtis, O'Connor, and Munhall / Mulhall, of Fillmore and Mower Counties, Minnesota.
GROVER family of Houston County (1854-1873) and Clay County (1874-present) Minnesota.
O'MEARA family of Winona County, MN (originally from Co Tipperary, Ireland) - Invalid URL 4 Jun 2019
Pihale, Wallner, Klein, Unger Homepage. Families came from Bohemia and the Burgenland of Austria. Most settled in St. Paul, Ramsey County, with some (Wallner, Pihale) in Blue Earth and Brown Counties.
Freeborn County: Pederson, Halvorson, Bell, Johnson, Olson, Helgeson, Johannesd from Norway to Minnesota and South Dakota.
The THIEMANN family has deep roots in Martin County, Minnesota. - Invalid URL 4 Jun 2019 Please visit my THIEMANN FAMILY HISTORY - Invalid URL address 30 May 2019 - at either of these two sites.
Wieland's of Minnesota - Wieland's immigrate from Baden-Wurttemberg Germany to Renville, and then journey to Bertha in Todd County and settle there for generations. Also connected to other Bertha families from Germany: Leyh, Zimmerman, Bluhm, and Thiel
DAGFINRUD,s HJEMMESIDE and DAGFINRUD,s Hjemmeside - Invalid URL 4 Jun 2019
Welcome to Terry and Beverly Bell's ancestoral treehouse from Becker County, MN. - Invalid URL address 30 May 2019
Marshalls in Wabasha County and Sullivan, Enrights, Ryans, etc in Polk County. - Invalid URL 4 Jun 2019
The Koska~Timm Family Rosebush - There are over 100 names, the prominent ones being Koska, Deidrich, Timm,
Mahler, and Russell. Main locations of ancestors are the Twin Cities area, Wabasha County MN, England, Germany and Bohemia.
The Schliesser - Hicks Family Tree - Surnames associated with Minnesota include: Borsheim, Burshem, Bursheim, Gonvick, Lee, Lien, Mo, and Sheldon.
Richards Cousins - from Somerset Eng > Wisconsin > Minnesota
My Slovenian Ancestors- Surnames from St. Louis County, Minnesota: KRAMAR, OVEN, POZNIK, STEBLAJ,
TRONTELJ. Also miscellaneous documentation of unproven or disproven individuals of same surnames of interest, and more!
Purfeerst families in Rice and Steele counties.
Schurhammer/Pomeroy/Deming and many more names are listed at my website.
BECKMAN/N, FLATAU, HUSEN, HEILMAN/N, REHWALT/REHWALDT/REWALT, LEPINSKY/LEPINSKI, PLOWMAN. Our family was mostly in the Perham area, some still live there. If there are any connections please contact us. Traci Stone, My Access genealogy Page-the best one - Invalid URL address 30 May 2019
Eystad Family of Stevens Co., MN - Invalid URL 4 Jun 2019 - Ancestors of Eystad family from Trøgstad & Eidsberg, Østfold County, Norway. Includes: Johnson, Gaarder, Bruer, Halvorson, Tonte, & Hanson. Lee & Bjoraas in Chippewa Co., WI.
NOKL - A FAMILY ORGANIZATION: original settlers from Iowa and Wisconsin who then moved to Minnesota. - Invalid URL address 30 May 2019
Tim Bode's Family Tree: Bode, Friedrich, Stender, Herrmann, and Schrupp of Minnesota - Invalid URL address 30 May 2019
MAGNUSON "Jodi's Family" - Invalid URL address 30 May 2019 GARDNER, GARDINER, MORGAN, POTTER (Minneapolis; Corning, Iowa; Long Island, New York) HAGEN, THOMPSON, HATLESTAD, TORSEN, RUSSELL (Minneapolis; Norddal, Møre og Romsdal, Norway; Oslo, Norway) MARDELL, SPJUT, WALLIN (Minneapolis; Orkelljunga - Ausås, Småland, Sweden; Rottne, Kronobergs, Sweden) MAGNUSON, JOHNSON, MAGNEY, BLOOMDAHL (Minneapolis; Big Lake, MN; Isanti, MN; Visingsö, Sweden; Orsa, Sweden).
Th Plaisance and Beaudry families of Quebec and Minnesota - Invalid URL 4 Jun 2019
Johnson Family History Invalid URL address 30 May 2019: Johnson history starting with the union of John M. Johnson & Maren Berg (who came from Norway/Sweden) and settled in Pelican Rapids Township. Our family history mainly involves the Ottertail and Lac qui Parle Counties of MN, specifically the towns of Pelican Rapids and Dawson. Surnames added from John and Maren's union are...Arneson, Krogstad, Sillerud, and Krahn...and soon, Fleming and Murray. Website includes familie trees, a picture album, veterans information, newspaper articles, interviews, biographies and a virtual cemetary.
Hammond, Longbella (Langballe?), Scharf/Sharff, Sather/Saethre in Todd County - Invalid URL 4 Jun 2019
RIVARD homepage-alternate spellings: REVOIR, REVOR, REVARD, REVORD, RIVORD
Associated Dit Names: LACOURSIERE, LAVIGNE, DUFRESNE, BELLEFEUILLE, LORANGER
My Website: WESTMARKS from MN, via Sweden, Denmark, Finland. w/small mention of names: Anderson, Canary, Cleveland, McLaughlin, Olson, Roe, Swanson. Other WESTMARK related names: Anderson, Arnone, Aston, Basinger, Baxter, Bishop, Bodovinitz, Brassette, Caboy, Chasteen, Colenda, DeFore, Drury, Durham, Edgington, Ekholm, Ellison, Ernst, Falks, Gastonyi, George, Gibbon, Gorder, Grzyb, Gumienny, Hakins, Hellem, Hockman, Hope, Houseman, Hugh, Jarvis, Joyce, Kain, Kay, Kehoe, Kistenmacher, Knutson, Kristiansen, Labrum, Lambert, Lee, Leppla, Lewis, Loneborg, Lowrey, Lyle, McCormick, Moore, Munson, Nelson, Newman, Nunn, Olson, Pellessier, Reese, Rippey, Ross, Sackett, Schaffer,Smith, Stephenson, Strilczuk, Sundquist, Taft, Thrower, Ulmer, Walston, Waro, Weizcarkowski, Willison, Winters, Young.
I have Minnesota family going back to 1869 & branches going back to 1600's Europe. The Phillips & McDonald family lines came to Minnesota with the railroads and other lines just immigrated to Minnesota. The main family lines are Phillips, McDonald, Fehr, Glass and Trumbull.
Brown County Christensen lineage, Lyon County Klein lineage, Redwood County Jeppesen lineage - Invalid URL 4 Jun 2019
Ulrich Family History Web, was located in the St. Paul/Stillwater, MN area, although I have tracked them as far west in MN as Hendricks and as far north as Thief River Falls.
The McGowan-Nolan Family Page, including Vieg, Theviot, Breen, Jordahl, McCormick, Pickler, Martin, McGinn, of Appleton, Benson, Swift County, Hancock, Stevens County, and Brainerd, Crow Wing County - Invalid URL address 30 May 2019
"Biographies & Historical Sketches of Wabasha County, Minnesota" This site contains information from two books titled "History of Wabasha County" (MN), one published in 1884 and one in 1920. Hundreds of surnames are included.
The Great Rebellion ~ Accounts of Action and Rosters of the Men From Wabasha County, Minnesota This site is a combination of the records of Wabasha County, MN men who fought in the Civil war (this information researched by Jerry Anderson) and historical accounts concerning that war found in the book "History of Wabasha County" (MN) published in 1884. Hundreds of surnames are included.
Bob and LaVae (Kohlrusch) Arens Family of Saint Paul, MN - Invalid URL 4 Jun 2019 - families: Arens, Kohlrusch Hendel Pottratz Busch Koob Brinkman Mueller Remackel Weber, Arensdorf Laux Hoffman Meyers Engel Decker Peller Schmitz Aizman Kaplan, Kupgen Theis Schu Halfman Cossman Rollinger Dehning Scholand Monk Munkel, Pepenburg Carstens Ehleringer Freymann Schroeder Homan
JAROLIMEK/YAROLIMEK FAMILY The Winona County Minnesota , family from Jablonna, Pribram area in Bohemia
Related Folk - which contains a growing number of the Pease Family and descendants.
My Family lines from the Polk County Area of MN (Invalid URL address 30 May 2019) include BUSHEE, ENRIGHT, GENEREAU, STYRLUND, VOISS, O'CONNOR.
My Great Grandfather John Gilman Sterling lived on Lynndale Ave in Minneapolis most of his life. He died in Otter Tail County on 20 Feb 1930. He ancestry and descendants can be found at Sterling - Invalid URL address 30 May 2019
Some of the names associated with the http://krenz.org/index.html'>KRENZ family are BROST, ACKERMAN(N), TABAKA, SCHWEICH, TABAKA, McGINLEY, POESCHL
Remer Family Tree Surnames: Remer, Dressel, Dalchow, Lachermeier, Braunco
KRUSE/KRAUSE AND BOELDT FAMILY HISTORY - Some of the surnames included are: KRUSE/KRAUSE, SCHRUPP, ALBRECHT, HELD, LARSON, PETERSON, KNUDSON, SCHMIDT, HEMPEL, BROCKEY, SCHLEMMER, STETLER, POCHARDT, WOHLSLAGEN, ANTONSON, GABBERT, BUSSE, TEUTEBERG, JOHNSON, CASPER, GLAUBITZ, DOOSE, and many others.
GILLIGAN, GAHAGAN, WALSH, MCBRIDE, DEVANEY, OSTERKIL, BONSLETTEN, MCGINTY, MCMULLEN, FITZGERALD, FITZPATRICK, MURRY - OUR FAMILY HERITAGE
The American Experience of Clara S. OLMSTEAD
Averill, Black, Burris that lived in Illinois, Iowa, Minnesota, or South Dakota.
From Carver County: East Union & West Union dating back to 1862. From Scott County: Belle Plaine Anderson Family Tree - Invalid URL address 30 May 2019 - (Andersson, Arnesson, Edberg, Edlin, Holm, Johansson, Johannesson, Olson, Saventesson, Swanson, Viklund, Wicklund)
History of the Moore and Clark families, with related lines of Orr, Hoyt, McMahon, Erickson and Palmer. From Ireland, England, Illinois, Norway, Sweden, and New England.
This website primarily covers the Frederick family descendants that migrated from New York to Minnesota in 1855-6 to Scott, Wright, Stearns, and Pope counties. This includes a collateral line of the Eaton family who were descended from the Eatons who landed in Massachusetts colony in 1636 from England and moved on to Vermont and Garry, New York and eventually settled in Rochester, Minnesota in 1855.
Larson and Morgan family Web site, a genealogy depository for the Larson/Morgan Conglomeration. The site includes: census images, cemetery photos, maps, document scans and Ahnentafels. Surnames: Larson, Melin, Will, Hanson, Tietjens, Løken, Mattson, Engstrom, and Norin. Primary locations include: Douglas, Otter Tail, and Polk County, Minnesota; Stjørdal and Lånke, Norway; Trelleborg, Sweden; and Schlesweg-Holstein, Germany.
The Gammell Family of Fillmore, Minnesota. Also Mitchell, Harwood, Tabor, Oakley, Hutton, Anderson, Jackson, and Greenlee.
BESTLAND BESTELAND and related families.
http://freepages.genealogy.rootsweb.com/~hewes/index.html'>McMains Research and Collaboration Site, and contains a couple of pages containing research notes on the family of Erastus R. McMains, who settled in Minnesota.
WESTON, HILL, BUELL, and ALVERSON Families of Blue Earth Co from 1863.
The Poull(Pull)Home Page - Descendants of Peter Poull (Pull)
The Beldo Family - The Peldo (Beldo American spelling) family traveled from Finland to Michigan and then to Minnesota. From Minnesota they travel to Washington State.
DIERS - THOM/THOMS - JOHNSON - FREUDENBERG - DIEDRICH - WEBER - VOGT are or have been residents of Minnesota Counties.
The most common surnames are; Nelson, Wallem, Olson, Hall, Wichelman(n), Mielke, Weber & Roth but it contains many more. The most common counties are; Watonwon, Cottonwood, Ramsey & Washington but again there are many others as well as the states of Iowa, Wisconsin and Michigan.
Subra Family Site - Invalid URL address 31 May 2019 - includes primary counties of Dodge and Mower, and primary surnames of Subra, Vorce, Steele, & Dennis.
RADUNZ living in Yellow Medicine, Washington, Ramsey, Hennepin and Scott Co. Surnames also included- DOSE, DOSSNER, GRZYWACKI/GASKE, JUELICH, KAHL, LABATTE, LAGOTERIE (-PREVOST), MAIERHOFER, MULLIN, RADUNZ, ROBINETTE, SCHWAGEL, SCHUELLER, SIMON, TARKOWSKI, and TURPIN (-SANDRILL)
Kashubian/Polish ancestors, who settled in the Winona, MN area beginning in 1869. It includes a ship passenger list, birth/death/marriage records that I have taken from various resources and my personal family histories.
The Kriske-Majchrzak Family - Invalid URL 4 Jun 2019 - Most of these families came from Poland and settled in the Duluth, Minnesota area. Last names include: Banack, Krzeszewski (Kriske), Olszewski, Kubicki (Kubiski, Kubiske), Majchrzak (Myshack), Musolf, Mlynarczyk (Miller), Mosiniak, Tobola (Tobin), Jazdzewski (Jaski), Franckowiak, Stanislawski (Stanley), and others.
The Marti/Marty Family Webpage - Switzerland to Washington Co., MN - Invalid URL address 31 May 2019
My Minnesota surnames are RIDER and NEWMAN.
My Moe/ Moen and other familes I am researching.
"Ancestry of Larry Vizenor and Teresa Vizenor". Families include surnames of grandparents: Vizenor / Vezina, Fairbanks, Landgren, Haslerud, Reuter, Mahowald, Soukup, and Sieg. Site has photos of old ancestors.
My history goes back to Minnesota with three families. VanLoon, Blackwell, Twichell. - Invalid URL address 31 May 2019
Andersens from Norway Peter (Peder) Andersen and Anna came separately from Norway in the 1880s. They began their family in Wisconsin, but settled in Minneapolis (Hennepin Co) by 1890. I'd love to hear from descendants! Janet Casmaer 04/23/03
Schurhammer Family of Wabasha, MN -- immigrated from Baden, Baden Germany Rob and Kelly 04/23/03
Winker Family - Includes surnames WINKER (Morrison County), LUX (Scott and Stearns Counties), BORGMANN, GOERGER, RICHTER (all Stearns County). Tim Winker
Clark's in America Since 1632, My first ancestors came to Minnesota in the mid 1800's. My mothers family came to America from Czechoslovakia Nechas in America since 1909 and settled in Eden Prairie, MN. Names I'm working on CLARK SHOEMAKER CARPENTER PRATT BURR BURDICK NECHAS FILIPI PETRASH JOSEPH WILCOX Thank, Robert E. Clark, New Hope, MN
Our family tree website includes the following Minnesota family surnames (pedigrees, pictures, etc.): Laubenthal, Goihl, Schneider, Riedel, Klapperich, Homberg, Nathe, Weymann, Loehr, Ahles, Bauer, Roerig, Besting, Ernst, Dahm, Andres, Weber, Fleissner, Stopfer (Steiner), Beck, Eckel, Guhl, Colbert, Woulfe, McAuliffe, Duhig, Kennedy, Woods, Glynn, and Purcell. Michelle Margraf
"Clark's in America Since 1632" Minnesota, Wisconsin, Canada, New York, Connecticut Many Minnesota Families. Robert Clark
"Nechas in America Since 1909" All Minnesota Families. From Czechoslovakia to Minnesota. Robert Clark
Pistulka Family- Invalid URL address 31 May 2019 - Redwood County, Sheridan Township.Don Pistulka
The Gene Shed - Invalid URL address 31 May 2019 - Decker/Berry Roots: Decker from Hennepin & Ramsey Counties in MN, Cloud & Republic Counties in KS, and Athens & Meigs Counties in OH; Berry (Börjesson) from Fillmore, Carver and Renville Counties in MN; Börjesson from Sund, Östergötlands, Sweden; Quanstrom (Qvarnström) from Scott County MN and Varnum, Varmlands, Sweden; Withee from Ramsey County MN, Clark County WI, and Norridgewock, Somerset County, Maine; Brewer from Jackson County WI, Cuyahoga County OH and Onandaga County NY; Plimpton from Cuyahoga County OH, Mass., and Yorkshire, England; Ferguson from Fort Dodge, Webster County IA, Dane County WI, Canada, and Inverness, Scotland; Shoemaker from Pennington County Dakota Terr., Hall County NE, Randolph County IN, North Carolina, and Germany; Longley from Maine and Mass.; Nutting from Maine; more being discovered and added all the time. Martha Decker
Visit My Website (Invalid URL address 31 May 2019) with surnames HOLT, CROSS, CATE, CHASE, MORRILL, GILLESPIE, CAMPBELL, GULLIKSON, WYLIE and others. All are connected to Holt House, an octagon house built around 1860-1880.
Some Family Trees and county information in Cook County, MN
I am researching family members in particularly Mower and Wabasha Counties in Minnesota. The primary names I am searching are FETT, SCHREIBER, LAUCH, (all in Mower County) and SCHUMANN and EHLERS in Wabasha County. My website is: http://familytreemaker.genealogy.com/users/f/e/t/Eugene-W-Fett
Christenson Christenson families from Norway, Minnesota, Wisconsin, Illinois.
Can you add my website to your list?
This is a history of the SCHWEISS family that started with Michael Schweiss, who was born about 1780 in Thierberg, ( by Scheinfeld ) Bavaria, Germany ... and of his descendents who settled in the Brown and Nicollet County areas of Minnesota.around 1890/91.
McKenzie Website This website is mostly about my Scottish ancestry. My family tree includes Vockrodt and Conrad (German) ancestors who immigrated to Pipestone, Co. MN.
History of the Mullenbach Family in Adams Township, Mower County, Minnesota (1868-present)
The Schabert's and The Baker's (Invalid URL address 31 May 2019) from Nicollet and Le Seuer Counties
Ziesmers/Olson Families of Ziesmer, Olson, Kjelleberg, Ludetke, Zieska from Mille Lacs, Hennepin, Yellow Medicine counties
Fleck,Goodwin,Millers,Terry Family--Pipestone,Rock,Morrison,Stearns counties
My website is The Speeds of NE Iowa (Invalid URL address 31 May 2019) On my father's side of the family I have Guin (Speed) in MN and on my mother's side Roberts (Koch-Cook).
BETLACH/BETLOCK/BETLACK Counties in Minnesota: Jackson, Anoka, Hennepin
HOSS/LANDGREN/OLNESS and more
The BUDENSIEKS settled in the Zumbrota, MN area in Goodhue County.
HEINZ in Winona County. Invalid URL address 31 May 2019
PIERCE Family Invalid URL address 31 May 2019 and MASTIN Family Invalid URL address 31 May 2019 (Ramsey Co.)
Sagendorf family came to Minnesota some time before the civil war. They came to New York in 1710 with the German Palantines. My mother's family (Halvorson) came to Minnesota in 1859.
Fitzpatrick, Fitzgerald, Clow, Berry, and Short families from St. Vincent, Minnesota. Invalid URL address 31 May 2019
J. Friedrich ADLER Family of Pine Island, Minnesota. This family settled in Goodhue County, in 1860s, and descendants were in Goodhue, Olmsted, and Wabasha counties to this time. Surnames include ADLER, AHNEMANN, COLLIER, KOENIG, KING, NIETHAN, RUCKER, SIEFKER, and ZUEHLKE.
Andrew McConnell - Invalid URL address 31 May 2019 - Surnames: Balmer, Dunkelberger, Gouge, Houle, Lemieux, Johnson, Martineau, McConnell, Nahgahnub, Osaugie, Palmer and Many More...
Patricia Kutz Stoll --Minnesota family line surname is Kutz in Nicollet and Le Seuer counties.
Bruce Aiton Home Page--Yellow Medicine in the 1850's.
Andrew McConnell Home Page-- Surnames: Balmer, Dunkelberger, Gouge, Houle, Lemieux, Johnson, Martineau, McConnell, Nahgahnub, Osaugie, Palmer and many more... Invalid URL address 31 May 2019
JJ Roberts Home Page--Norwegian roots and much more. On my Njos, Mahlen, Ellingson and Vangen branches, I started in North Dakota, then went to Minnesota (on the web and physically) then to Norway (only on the web).
LeRoy VanHee Home Page --Van Hee and related families of Grandview township, Lyon county.
Bonnie L. Dame Home Page--I have a fairly complete genealogy of several families in Houston County. The primary research has been Kohlmeyer ,Haar, Schauble, Pieper, Bolduan
Steve Wainer Home Page--I have quite a bit of information regarding the surname KNICKERBOCKER beginning in Steele County in 1868 through the present day.
Dahlheimer Family of Minnesota, USA - The ancestors of the Dahlheimer family of Minnesota emigrated from Germany, via Ohio, to Dayton, Hennepin County, arriving in 1855.
Norwegians of Dodge & Olmsted, Minnesota 19 May 2019
Elg Family originating in Safsnas, Sweden
PILEDHIGHER Surnames: STEPAN/STEPHAN, GORNIK/GORNICK, ZALAR/ZALLAR, OKOREN/OKORN, JOHNSON, LARSON, NILSSON/NELSON, KINDSTRAND, McMURTRIE/McMURTRY, KINLEY/KINDLEY, ZAHN, ZORN, SCHWANKE, KURTZ, SCHWEITZER, DEMARAIS and many more
Kustelski, Kunze, Sadowski, Wolkerstorfer, Jasinski, Czaplewski, Sontheim, Jung surnames and many others- all settling in Minnesota can be found at my ancestry website: http://james.kustelski.googlepages.com/home
---
This page was last updated 4-Jun-2019.